Explore the essential features required to build an Amazon clone platform, detailed on on-demand-app.com. For more detail how to creating a successful Amazon-like e-commerce platform.
Posted At: Sep 26, 2023 - 110 Views

What are the Most Vital Features of an Amazon Clone App?
01 Aug 2023
Himanshu Patel
Amazon is one of the well-established eCommerce websites which allows people to shop for a variety of products online. With the growing user base, Amazon has become the most celebrated site today. This immense popularity of Amazon has led many traditional businesses to shift their operation from offline to the online market.
If you are a person who is looking to develop an Amazon clone app, then the following information will come in handy to you. Here we are going to talk about several beneficial Amazon clone features you need to consider while developing an Amazon-like app for your business.
How Does the Amazon Clone App Work?
Just like other on-demand applications like Ola and Uber, clone apps work with two different panels; one for users and another one for drivers. The same concept is applied to the Amazon clone app as well. One panel is aimed at the customers, where they can browse a host of products ranging from baby toys to adult clothes, and from mobile phones to laptops. While the second panel is aimed at sellers, where they can list all their products, they want to sell. If you also wish to develop an Amazon clone app, then you also need to develop these two panels to make it work successfully.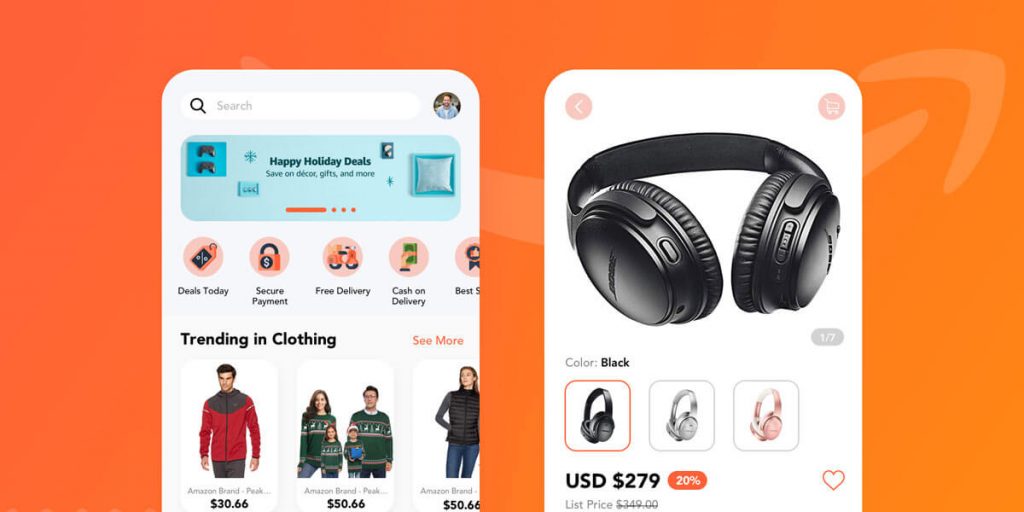 Before starting to talk about the most vital feature of the Amazon clone application, why can't we talk about how this Amazon clone application works.
As you know that Amazon is a marketplace that connects both customers and sellers with each other. The first step comes first, to use the application, customers need to register themselves on the application by providing their basic information. Vendors also need to register themselves to sell their products on Amazon.
After registering, customers will be able to search for the product they want to buy, if they find the product useful then they can place the order.
Placing the order will lead the customers to the payment page, where they make payments for the chosen product. If a customer is not comfortable making upfront payment then they can opt for the cash-on-delivery option.
The chosen product then delivered to the customer's address within the committed time. After this entire process, Admin comes in the role.
The admin will transfer the amount to the vendor after cutting down his commission. If any easy return or exchange offer applied on that product then the admin will hold the payment of the vendor until the exchange time passes out.
This is how the Amazon application works, the Amazon clone application will also work in the same way unless you decide to make some changes to it.
Must-have Features of an Amazon Clone App
Here we have the outline for some of the most popular features along with some other unique features that make a successful Amazon clone app.
Customer Register or Login
Enable your customers to log in or register on your site with no hassle. Make it a simple process. Besides this, you can allow your customers to browse your product categories as guest users.
Wishlist
This feature comes in handy when a customer likes a product and wants to save it to buy later. It lets them save the product in the wishlist, so they can purchase the product next time in searching for it.
Synchronization
Synchronization is another important Amazon clone feature. This feature allows the users to synchronize their shopping data on both mobile phones and computers.
Rating and Reviews
Rating and reviews are other key benefits of the Amazon eCommerce website. You need to enable the customers to rate and review the products. Other shoppers can use this information to decide whether they want to invest in the product.
Multiple Payment Optionse
Today, when technology is growing at a fast pace, people have multiple ways to make payments. You also need to incorporate multiple payment options for the customers, so they can choose the most preferred one for them.
Social Media Integration
Social media applications are becoming an integral part of people's day-to-day lives. Thereby, integrating social media platforms into your Amazon clone application will go a long way to keep shoppers engaged. The sign-up and login process will also become easier with social media integration.
Push Notification
Push notification comes in handy for eCommerce business owners. This feature enables them to send important notifications to the shoppers. The notification can be anything regarding discounts, the latest products and so on.
Real-time Order Tracking
When customers place an order, an app such as Amazon sends them a notification containing a link to track their order in real-time. You also need to incorporate such features to make your application more profitable for you.
Product Search
An eCommerce store has thousands of products. Thereby allowing users to effectively search for the desired products will make your application more useful to your customers.
Conclusion
Amazon clone app is not limited to the above features. Besides the above-discussed features, there are several other features as well that you can incorporate with an application. To learn about those features you can consult with an amazon clone website script development company.