In the healthcare sector, a medication delivery application is a game-changer. It has done marvels since its beginning, and its significance and advantages have grown with time. A medicine delivery app, also known as a pharmacy delivery app, allows patients or smartphone users to purchase medications straight online.
In today's world, healthcare app development is one of the most popular application development services. To create a telemedicine app, the proprietor of a digital healthcare business interacts with a company that develops on-demand app delivery applications, such as PharmEasy, Practo, and NetMeds.
The foundation of the drugstore delivery app procedure is exceptionally straightforward. Two or three applications are needed to finish the process following the company strategy.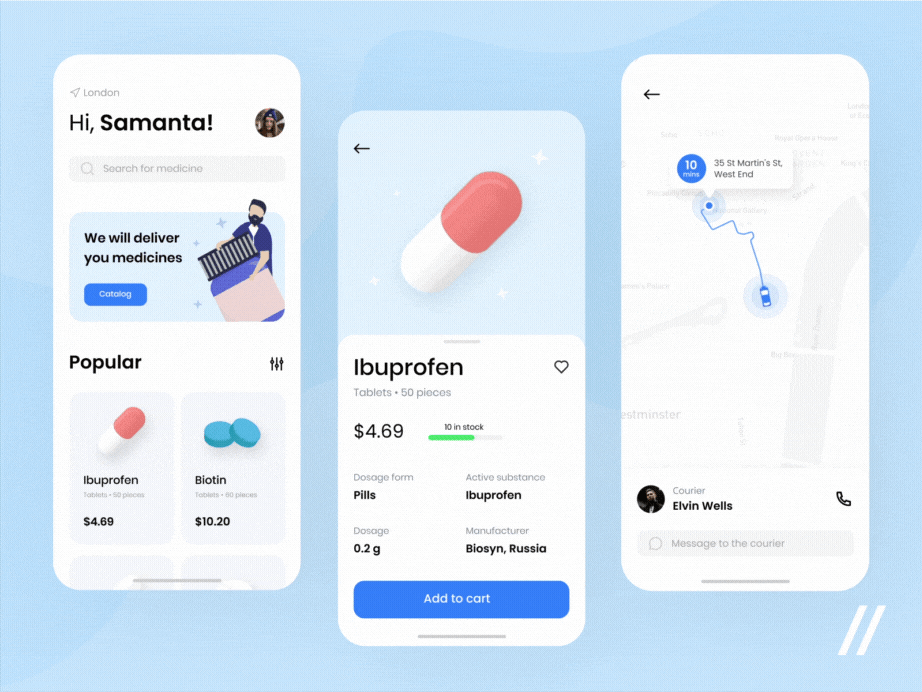 Development of Medicine Delivery Apps: In-App Features
You'll need a shop app and a customer app to finish the process if you're using the pharmacy app model. Three applications make the procedure work if you have a third-party telemedicine app. These are a client app, a shop owner app, and an admin panel, in that order.
To stay in business, a pharmacy app for Android has to include a lot of functions. Though there are features tailored to the kind of apps, such as a customer app or a medical shop, we'll keep you updated on the most recent additions.
1) Create an account/register
An essential feature of the online mobile pharmacy delivery app is the ability for consumers to register. It may be written using an email address or a phone number. Also, if you choose a phone number, you must get an OTP to complete the registration process.
2) Location auto-detect
The auto-detect location function is the second most important feature. The consumer's consent to the app was automatically detecting their position to provide a smooth delivery experience. The pharmacy delivery hs will be shown on the main screen based on the location.
3) Look for Medicines
Frequently, users or patients may type the name of the medication into a search engine to find the closest medical shop.
4) Look for a Pharmacy Store
Users may utilize the search bar to look for a pharmacy shop, just as they would for medication. Users may immediately type in the name of a medical shop to contact one that can assist with fast medication delivery.
5) Click "Add to Cart."
Users may easily add medications to their basket by utilizing the add-to-cart function. Before the payment checkout procedure, the additional drugs will be shown in the cart. Before making a payment, it is necessary to inspect the medicines. In addition, the medication amount may be immediately added and removed from the cart.
6) Submit Prescription
Before buying any medicines online or offline, it is required in the United States and many other countries to submit the Prescription. The software creation in healthcare must be accurate, particularly with this function, since the patient must submit the Prescription before checking out.
7) Payment Methods
One of the most critical aspects of the medication delivery app is payment. When making a purchase request, customers will need to have various payment methods accessible to send money online. Debit cards, credit cards, net banking, and other payment methods are available.
8) Previous Orders
Allow your users to look up their order history before placing a repeat medication order. Patients with diabetes or high blood pressure, in particular, must order the same medications every month. As a result, having an order history function enables a customer to quickly make a repeat purchase via their pharmacy delivery app.
Medical Apps of Various Types
Before you begin researching how to create a medical app, you must first understand the many kinds of healthcare applications on the market to choose the category. Apps for healthcare are usually split into two categories:
Apps for Healthcare Providers on mobile
Apps for general users
Let's see some essential features and applications of each kind of software.
Apps for Healthcare Providers on Mobile
Doctors and other medical workers often need customized solutions since they are created for a medical institution (hospital, clinic, etc.) with unique requirements. They need advanced technology and are often more costly. They have a variety of distinctive characteristics and serve a variety of functions, including:
Monitoring of the patient
These applications allow healthcare professionals to keep track of their patients' illnesses and progress during their treatment. These systems may save medical test results for patients, which physicians can access at any time.
Database & Reference for Healthcare
Physicians can store all data on various illnesses, medical conditions, medications, and prescriptions in one place using these applications. These reference applications may assist physicians in staying current on medical information.
Apps for Doctor Appointments and Clinical Assistance
Physically keeping handwritten appointment diaries is inconvenient and, in most instances, obsolete. These applications may be used to book appointments, alert patients and physicians about future checks, change schedules, and keep track of other important information.
Doctor-on-Demand
These applications, often known as telehealth or telemedicine apps, offer remote healthcare services through online consultations and are particularly important for emergency intervention.
Apps for general users
Patients and ordinary users who want to live a healthy lifestyle may benefit from these apps.
Patient-Friendly mHealth App Development
They have various characteristics and functions, including Health Education for Patients. By providing valuable up-to-date information, these applications help educate people about various health problems.
Diagnosis
These are crucial for prevention because they help people understand their symptoms and seek assistance when necessary.
Reminder
These serve as reminders to take medications, get enough rest, and engage in other healthy habits. They may also be used to monitor and develop good behaviors such as keeping hydrated, getting adequate sleep, etc.
Health Observation
Patients with chronic health problems such as cancer, type 2 diabetes, and cardiovascular disorders may use these apps to track their symptoms around the clock and take the required measures.
Read more: Should You Hire a Separate Web Designer and Developer?
The advantages of having a pharmacy mobile app
Here are seven significant advantages of having a pharmacy online. Take your time to read them.
1. Marketing and unique advertising tool
The primary reason for ordering medical mobile app development is for effective marketing and promotion. You will get a platform that will enable you to market your pharmacy effectively. Furthermore, you'll be able to learn what your clients truly enjoy and hate about your pharmacy. Such data will assist you in improving your product.
2. Increasing your client base
The ability to interact directly with your consumers is a significant benefit. You grow closer and more precise to them, and you are constantly "at hand," not only meeting their wants and satisfying their desires. Use your pharmacy app to its full potential by engaging with consumers through push notifications and alerting them about discounts and promotions on a timely basis. In other words, convert users into devoted customers.
3. Increased competitiveness
As we said at the outset of this post, pharmacy apps are the most effective method to boost your competitiveness. It's hardly unexpected, given that your mobile platform enables you to communicate with your customers 24 hours a day, seven days a week, regardless of their location.
4. A well-known business identity
Creating a recognized pharmacy brand to represent the company's image will not be unnecessary. And a mobile application with a friendly interface design may aid in implementing the concept by serving as a natural extension of the drugstore chain's brand.
5. Constant improvements
Make sure your pharmacy medication app has an analytical tool for analyzing user activity. The information gathered will be very useful in continually refining your application and increasing the pharmacy's quality of customer service.
Read more : The Best Tech Stack For On-Demand Fuel Delivery App Development
6. Medicine sales through the internet
Both you, the pharmacy owner, and your consumers will be pleased with the option of online sales. The reasons are straightforward:
Customers will be able to purchase medication from you wherever and whenever they desire, resulting in a rise in sales and profit.
As you can see, developing mobile apps in healthcare might be beneficial to your financial situation.
7. Patient Assistance at the Highest Level
Pharmacy applications may come with a range of features that might help you offer better service to your clients. We're talking about medication reference materials, virtual consultations with your team, and so much more.